A.L. (Bud) Lindsey
---
Part I
Part II
Part III
Part IV
Part V
Part VI
Part VII
Part VIII
Part IX
Part X
The men from Dachau
---
Source:
A. L. (Bud) Lindsey: A Soda Jerk Goes to War, Stanton 2001, p. 124-189
Reproduction kindly permitted
A Soda Jerk Goes to War
By A.L. (Bud) Lindsey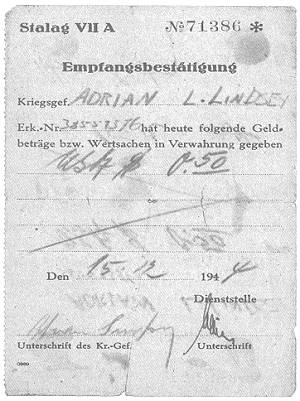 I was given a receipt for any money which I had. The rough translation is "Acknowledgment of receipt. 38559376 has today following cash." The receipt has the signature of the prisoner (myself) and the signature of the German officer. I had fifty cents in my pockets. It is dated 15-12-44, the European dating differing from the American way, showing the day before the month. Thus, the date was December 15, 1944
April 29, 1945, will always be a date to remember, not only by myself, but all of the POWs interned in Stalag VII A. I wish I could have kept a diary of all of the events I was involved with during WWII, but it would have been foolhardy to record daily life prior to my capture. We were cautioned, in no uncertain terms, not to have any papers with us after we went on line in France for in the event of capture by the enemy, we would not offer information that might be valuable. After I was captured I did not have, nor could obtain, writing materials.
At the time I was captured in late November of 1944, the Germans took all of the small amount of money from my wallet, leaving me a receipt for what appeared to be in the amount of fifty cents. I was able to retain my wallet with all else intact. I did have a small address book, which measured about two by three inches, in which I recorded the following in pencil, smudged and difficult to decipher after fifty some years:
March 25, 1945: Heard that the anal big push had started - that Stuttgart had fallen - heard yesterday that airborne had landed there - Allies supposed to be near Nurnberg. Heard that (?) had made a speech... war over in two weeks. Open the door and give me a shovel!
We were asked one day in late March of 1945, to volunteer to unload a freight car filled with Red Cross parcels. I was happy to have the chance to have something different to do and was one of the volunteers. There must have been twenty or twenty- five of us unloading the parcels when, either by accident or by design, one of our men dropped a parcel causing it break open, spilling the contents. Most of us, including myself, looked upon this as a windfall and hurriedly filled our pockets with the loose foodstuff. The guards yelled like crazy and demanded we return the items, separating those suspected of picking up the items from those who did not. I was in the group of those who were not noticed. I decided keeping the items was not the right thing to do and gave up my meager horde of sugar cubes I had secreted in my clothes. The guards then placed me in the group who were guilty of picking up the items. Hence, I was put in the sonder barracks, confined to the building, prohibited from having Red Cross items and fed only bread and water. This was lucky for me in the respect that I had contacted mumps and now was able to stay off my feet. The notes from the small address book continue...
March 31, 1945: Second day of what I believe will be 14 in Sonder Barracks.

Apr 1, 1945: It's not so bad. What the heck... I could be back with the fellows - sure hope I don't get my stuff stolen. Nothing to do but eat and sleep... what little I get - 1/2 loaf of bread. Wish I had a diary or something. I haven't thought so much of home since I was at Ludwigsburg.

Apr 3, 1945: This morning the Jerry cap. called us out & sentenced us to 30 days. Told us we would get court martialled after the war.

Apr 9, 1945: Thursday 5, we were all cleared out of the Sonder Barracks to make room for more new coming into the camp. We learned that all puts. and NCOs were to be moved-where beats me. I was up to see the British Cap. Fri - told me I have the mumps just a light case - doesn't bother me at all. Everyone is very optimistic about the war. General opinion is that an attack is headed in this direction.
We were all moved to what was known as the "north lager" from the isolierbaracken where we were able to join some British soldiers. I found the British army privates more likable than the British noncoms who were housed in Barracks #53 as they were congenial and down to earth. Some of these British soldiers were Ivan Freestone, Fred Hutson, Fred Sharpe and J.W. Pickin. Also, we were able to trade across the single layer fence with some POWs from India. The Indian soldiers were allowed almost unlimited freedom in the area and were wonderful to obtain some items in exchange for cigarettes. I found the Indian soldiers to be very honest as you could trust them with cigarettes and they always came back to our location with either bread or would return the cigarettes.
During the long days of inactivity in the North Lager, I met and conversed at length with an Indian soldier named Armin Ghafur. Before we parted company he wrote me a "letter" on a piece of paper which he probably would have preferred to use as toilet paper. Actually, I do not believe the people of India used toilet paper, although I did not discuss this practice with Ghafur. Ghafur's letter...
Armin Ghafur, V. Hamid. P.O. (Drer) NAZPO, Dist. Campbell Pore, Punjab, India
1. The only thing I will miss when I am away from here will be the "Sweet American"
2. When I reach my on home I will tell the "Old Girl" (my Mother) that the American tank brought the "Happiest" day of my life April the twenty-ninth, 45.
Freedom! Freedom! Freedom after hard long starving nights of the miserable "Gefengened life"
Good on you America.
3. The Gerry is kaput now.
30/4/45 A Ghafur
Moosburg, Germany
...my notes continue...
Apr 11, 1945: Bombers been flying over for about 15 minutes - saw a few fighters too - looks very good. Moved again yesterday - over in the North Lager now with a group of non - workers.

Apr 18, 1945: Heard yesterday that patrols had reached Nuremburg - been hearing rumbling bombs over Augsburg. Opinion seems to be equally divided also on question of whether we'll be moved or not when they get close. Heard a couple of days ago (12th?) that Roosevelt had died - seems to be true.

Apr 24, 1945: They're supposed to be at Reinsburg now (I cannot read the name of the town correctly.. it only looks like Reinsburg). Planning a new drive on Munich. We are in their path. Sooner the better. A guy can't tell what's liable to happen. Heard that Augsburg fell early this morning. Moosburg supposed to be declared open city.

Apr 26, 1945: For the last three days have been hearing rumors that the Jerry guard is going to take off on us, leaving only a few American officers to take over management. They're getting closer all the time. I heard rumors that they're shelling Landshut.

May 1, 1945: I am now a free man - in many ways I am more of a prisoner. Morning of 29 Apr, about 6:30, we heard a burst of machine gun fire to the NW of North Lager - didn't think too much about it although it did sound like an American gun and we knew that they were fairly close. About 9:00 we heard a fire fight to the west of Moosburg. Lookout on guard tower next reported that he saw a couple of tanks and trucks. Fire fight moved further west into Moosburg. Soon all was quiet. Jerry guard came down just after lookout reported 4 jeeps came into main larger and called all Jerry guards into main lager (camp). The whole compound packed gate waiting to see a jeep and G.I.s American flag was raised at 12:50 PM at main gate. A great cheer arose from the throng. Shortly after arriving G.I.s walked into a gate about 100 yards up toward the main gate and waved to us and we cheered a few minutes. Later spoke to a Lieutenant for a few minutes. At 4 on Apr. 30, I saw my first American girl in about 9 months - cute! Nearly a riot!
Source: