A.L. (Bud) Lindsey
---
Part I
Part II
Part III
Part IV
Part V
Part VI
Part VII
Part VIII
Part IX
Part X
The men from Dachau
---
Source:
A. L. (Bud) Lindsey: A Soda Jerk Goes to War, Stanton 2001, p. 124-189
Reproduction kindly permitted
A Soda Jerk Goes to War
By A.L. (Bud) Lindsey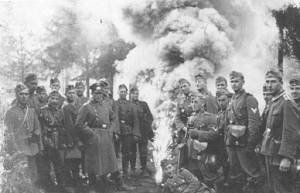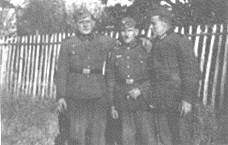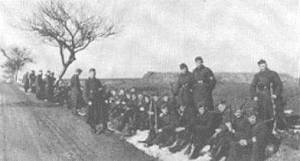 After we were liberated from Stalag VII A on April 29, 1945, I picked up these "souvenirs" from a residence in Moosburg. I have tried to find the owner to return the photos to no avail.
My trip to town ended with my taking (some called it "liberating") some picture post cards from a two- story house. I am not proud of my actions and have tried to locate the owner of these keepsakes to no avail. I wrote a letter to the "burger master" of Moosburg many years ago, enclosing some Xerox copies of the pictures, explaining I wished to locate the owner as they might be family keepsakes. I received no reply nor was my letter returned. Perhaps my addressing the letter to "the burger master" caused it to be delivered to the nearest MacDonalds outlet.
After the introduction of the Internet, I found Moosburg had a web site partly devoted to the Stalag VII A facility [Stalag VII A Moosburg]. The Germans in charge of the web site [the Moosburg Online WebTeam] responded to my request and wished to help in my quest for the owner of these items. I supplied the name, Sebastian Trini, which appeared on one of the postcards to the Germans who operate the web site. They e-mailed four possible addresses in Germany to which I wrote, sending copies of some of the pictures from the Moosburg residence. So far I have not received an answer to my inguiries. The search continues.
This web site was also helpful in trying to locate the young lad who found three toothbrushes in Munich but missed our work group. I did receive a letter from a man with the name of Herman B. Reischbock, who now lives in Munich, and though the ages agreed, he was living in another town in 1945 and was not the young man with the toothbrushes in 1945.
A short time after we were released and after our trip to the town of Moosburg, I went over to a building which was located across the road and near Stalag VII A. It contained some type of machine shop equipment but I have no idea of its use. I stood on a little bridge over a small stream and just watched the water. Shortly a Russian recently released POW joined me, watching the water move under the bridge. We did not converse as neither of us knew the other's language, but nodded and smiled to each other, I think understanding each other without words.
The Russian prisoners had a rough time as POWs compared to those from countries who were members of the Geneva Accord prior to WWII. As they did not receive the Red Cross parcels supposedly they received double the normal rations which the American and British POWs received; i.e., instead of ftve men sharing a loaf of the German bread there would be only two or three. Instead of receiving a eight ounce cup of soup, they should have received fifteen or sixteen ounces of soup, hardly a fair trade for the nutritious Red Cross parcels.
The following is a letter from Doyle Borchers, Box 294, Clifton, Texas, addressed to 1103 South China, Brady. He was a fellow prisoner. Several of us moved from the camp across the road and found a room in a building that had straw for a floor in a small room. I was sick, running fever and Doyle Borchus brought me water and found some food. My sickness was not the remnants of the mumps, but probably was some type of virus which did not last but a couple of days. Although the American forces did have medical care for the seriously ill, they were hard pressed for a short period of time being able to take care of the great number of prisoners.
Doyle Borchers wanted me to hitchhike across Germany and France to La Havre, but I declined. I waited for transportation provided by the Army later. This letter clears up some questions in my mind.
Postmark Clifton, Texas, July 5, 1945, 4PM.
Well Lindsey,
It has taken quite a while for me to get around to this but? Well at any rate the important thing is that I have.
Boy oh! boy I was really puzzled when I got that box with that most valuable shaving brush. As you know I called your mother shortly after I came home (collect of course)
You are probably wondering about what happened to me after I left. Well the evac hosp. they took me to right after I left was right outside of Moosburg & I stayed there for several days and then V. E. day we were taken to Landshut in ambulances to the air strip & we flew to Swendel, England about 60 miles from London then after three or four more hospitals we were flown to northern Scotland & we flew to Iceland, New Foundland then landing in New York. Guess you know how that felt. We were at the Santanil Gen. Hosp. two days and then they flew me to Waco & out to McCloskey Gen. Hosp. where I am stationed as a patient. They have fixed up a brace for my foot & I am good as new. I am on a 60 day convalescent leave now and my Dr. said if I felt like another 30 days just to let him know. But he also mentioned that I may be able to get a discharge so I think I will go back right after the 60 so I can find out what's what. But you know how it is.
Have really been enjoying everything.
About the picture of your little sister I will send it soon as I can get it fixed up.
I am also writing Raymond K. & will send his picture also.
Be sure & write now & tell me everything that happened since I left & what happened to the colonels
Your Friend, Doc. Tex.
The reference to the picture of my little sister (Mary Ellen) in the letter from Doyle Borchers answers a question that I had. I had no idea how I was able to get the picture painted by the French artist back to the States as we had nothing but the clothes on our backs and no way to carry such a thing as a picture. Evidently I gave the picture to Doyle for him to bring back.
I had the chance to visit Doyle Borchers at Lake Whitney, which is located just a short distance from Clifton, some years later. He was involved in local politics and was County Attorney I believe at the time of our visit.
We were moved by army trucks to a landing strip not too far from Moosburg where we boarded C-47s which had been equipped with bucket seats. I do not remember getting on the plane (which bothers me as this was the first time I had flown). I do remember the flight across the mountains in route to an airstrip outside of Paris as being very bumpy and very uncomfortable as I had little padding on my posterior.
We were then trucked to Le Havre, France, to a tent city known as Lucky Strike. By this time the war in Europe was over and it was really nice to have our trucks, which were transporting us to Le Havre, driving with full headlights.
At Le Havre we were issued some clothing and one of those sleeping bags that were shaped like a human's torso. We had a special name for these bags, one that is not usually spoken in polite company. It was awfully cold in Le Havre I suppose because we had such little body fat. I could not eat very much, my eyes being much larger than my stomach. One morning I went to chow for breakfast and it made me sick. We would gradually get back in shape and regain some body weight but it would not happen overnight.
The troops waiting to go back to the States, along with myself, caught a Liberty Ship home and landed at New York. It was a glorious sight to sail past the Statue of Liberty and I feel sure that some of us shed a tear or two. It was wonderful to see the fire boats in the New York harbor all spraying fountains of water to greet this returning ship of POWs.
Source: