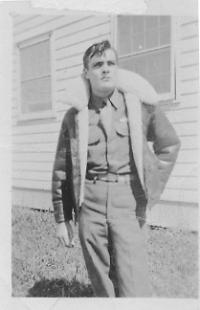 About Corporal Meehan
E-mails from his daughter Deborah Meehan:
My father Richard H. ("Dick") Meehan was a POW at Moosburg, Stalag VII A. He was a Corporal in the USAF and was with the 8th, 100th Bomb Group, 350th Squadron, 3rd Division, based out of Thorpe-Abbot. He was a member of Lt. Charles Webster's crew and was shot down on Dec 31, 1944 following a bombing run over Hamburg. He was severely injured and immediately captured. I know he was in Wetzlar, Stalag Luft 3 Sagan, Nuremberg and Stalag VII A, Moosburg. His serial number was 31 427 291. During forced marches he had to be carried due to his injuries. I know one of his crew mates, Morris Burkhart, helped throughout the marches. Also a seminarian helped tend his wounds, but I do not who this was. Following liberation on Apr 29, 1945 he was flown home eventually aboard hospital ship or plane. He spent time in Mitchel Field Hospital in New York, then spent much time in Cushing General Hospital in Framingham, MA. Last hospital records I have are for Oct 1946..
According to a letter my grandmother wrote after first visiting my father in the hospital upon his return to the States she writes "Richard was left lying in the snow for hours, bleeding terrible, so it was awful for him to talk about the camp". When my father was alive he would never speak of these experiences, they were taboo to bring up as well.
Any further information on my father would be greatly appreciated. Thank you.
A letter from his crew mate Morris Burkhart: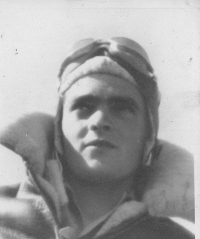 Dick [Richard H. Meehan] was on his training crew here in the States. Their crew flew a B-17 bomber from Rapid City, South Dakota, to Lincoln, Nebraska, and then to Bangor, Maine, then to Goose Bay, Labrador, where they were grounded because of weather for three days. From there they went to Ireland leaving their plane and going to Diss, England, by train.
There we were assigned to the 100th Bomb Group, 350th Bomb Squadron. On the 31st Dec. 1944 on our thirteenth mission we were shot down over Hamburg, Germany.
Our bombardier, navigator, tail gunner, Dick and I were blown out of the plane, the balance of the crew went down with the plane. I was captured as soon as I hit the ground and was placed in a barbed wire enclosure near an air base. Sometime during the night I was marched to a large building which held all the other airmen who had been captured. There were no lights so the building was completely dark. I kept calling the names of my crew and I heard an answer from Dick. I went to him and found him with leg wounds.
Sometime before morning we were taken out of the building and marched for what seemed like hours. During this time I carried Dick as he couldn't walk because of his wounds. We were loaded on a train and traveled until way after daylight to some samll town, where we were taken off the train.
For several days we walked, then rode a train to Frankfurt. Dick and I were separated for a couple of days while we were being interrogated. At no time did Dick have his wounds tended to.
After this we rode and walked to Dulag Luft Wetzlar, a distribution center about three days out of Frankfurt. We remained there about two weeks. Dick still didn't see a doctor or have his wounds seen to, dressed or anything.
When we left Wetzlar, we rode a train for about one day until the U.S. Air Force knocked out the engine on the train. We walked on to Stalag XIII D Nürnberg. All this time I carried Dick on my back as he could not walk.
At Nürnberg his wounds began to heal, but he still couldn't walk and one foot just hung down and he had no control over it. We stayed at Nürnberg until the American forces were getting close.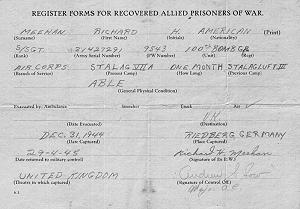 We were moved out and marched on to camp Stalag VII A Moosburg. By this time both of our feet had frozen. I carried him to Moosburg as he still couldn't walk.
We were liberated at Moosburg and the medics air evacuated the worst wounded, this was the last I ever saw Dick - this date I remember: 29 April 1945.
I got back to Louisiana the 4th of June 1945.
I tried to find Dick several times but never had any luck until ironically after he had passed away. I'm terribly sorry it went that way.
A letter from his mother to the wife of Charles Webster, the flight crew's pilot:
Dear Mrs. Webster,
Richard is home now, he came home on a hospital plane to New York hospital and from there to a hospital here about 15 miles from us. He is quite thin and lame in one leg, the nerve is entirely gone but they claim he will be OK when they operate on it later, when he is build up. He was let home for Saturday and Sunday, so he was so happy that he will be well soon. He felt terrible about your husband, the tears comes in his eyes when he talks about him. He said he was the finest fellow that ever lived, anything they wanted he would give it to them, money when they were broke and the way he flew that ship on Dec. 31 he said no one could ever do it any better than he did. He said they were supposed to meet an escort fighting planes when they got there but they were 25 minutes late getting there and there was no one in sight. So Richard was wounded, the first one and Whitt gave him oxygen and brought him back and Duke and Lakin stood in front of Richard to save him as he had no flak suit on and they got it and were killed right in front of him and he crawled out on his hands and feet over there dead bodys to get to the door and then it wouldent open it was frozen. He wasn't able to walk so he made to the other side of the ship and then bailed out and the sky was thick with flak you could not hardly see anything the germans meet them that day with everything they had so then he left the ship, your husband was in the ship still getting them all out and Whitt was then shot in the leg and your husband was putting on his chute on Whitt. He said the ship went on fire just when he got out. So he knew the ship was gone, so I don't know about the crash landing, that way he told us he said it was the 13 mission New Years Eve and your husband had a place all hired for a big party of for the crew when they got home that night. He hasn't seen this letter I got from you yet as I dident go to the hospital today yet but he told me Sunday to keep writing to you and he will write you a letter later and he said he may go to see you when he gets his leave of 60 days. I hate to tell you those things but I know you would want to know as I know I would so don't tell Richard what I told you you let him tell you he can explain it better than I can so he thinks that Whitt must also be killed. I have not wrote to Mrs. Whitt yet until we see if she hears and then he said hem might have gotten away. All that boys went through was terrible and then all they went through in the camp was worse he was left lying on the snow for hours bleeding terrible, so it was awful to hear him talk about the camp you cant write it in words if you want to sometime when he is home from the hospital he could call you on the telephone and talk to you late at night now that the war is over. I think he could tell you a lot. You were so nice and kind to us I would do anything I could to let you know
I am so glad you got a nice baby girl and that you are well. You certainly had a terrible time all winter with such bad news of such a good husband and so well liked by all. Richard said he cant believe how he could be killed he said it was not fair but I guess god wants the good. I am sorry Dear to have to tell you this awful story but I know you would want to know all. Richard will write soon as he quitens down and not so excited. Good luck and god be with you and take good care of your Dear Babys and his Dear Mother and Father also.
Mrs. Meehan [June/July 1945]
Source: