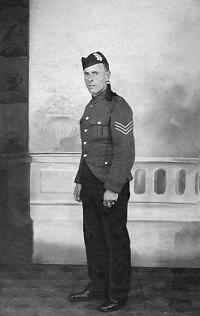 Tales From Stalag VII A
From Sgt R Mathieson 10th BTn Black Watch
Camp Internee 1944 - 1945
This is my father, SGT Robert Dunlop (Bob) Mathieson aged 24 in 1942. Until he was 86 he regaled us with stories of his time in Stalag VII A. My father passed away on 18 August 2003.
He was captured in Italy just after the battle for Anzio in 1944 and taken to Moosburg Prisoner of War Camp, where he spent the rest of the war.
He has had two strokes and his memory and understanding are not so good but I have been able to obtain some information from him about this time.
He remembers that the commandant of the camp was not as portrayed in films about POW camps, he was a well educated and gentle man who had three great loves, the army, football and his white Scottie dog.
I have never heard him mention anything negative about the camp, he seemed to enjoy the camaraderie and probably the fact that nobody was shooting at him anymore.
Characters in the camp are remembered
The camp joker who spoke fluent German and would dress in a manufactured German uniform, walk out of the camp, around the town and come back again in time for meals. He was never caught. The fact that he always came back, showed that he really did not try to escape and those guards who knew, let him have his bit of fun.
A large Australian, who bunked above my father. His name was Rocky and one night my father was awoken by this mans voice saying, left, right, about turn etc. My father thought he had gone nuts, but when he asked him what he was doing Rocky replied "I'm just getting these bloody fleas properly trained".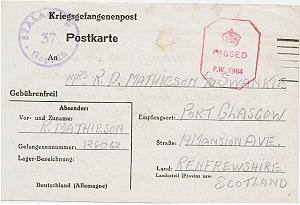 Sometimes a relief of Italian guards would replace the German soldiers and the commandant put one of their senior men on a charge for not giving a dead British officer a proper military funeral.
In their hut, they had a great mixture of tradesmen from civvy street before the war and many items would be manufactured. One even made a radio in a tea caddy in order that they could listen to the BBC.
One morning, all in the hut awoke to an odd stillness, a quietness they had not experienced for some time, and they found it rather disquieting. On venturing forth from the hut, they discovered the camp deserted, save for a few early rising fellow prisoners. All of the guards had gone and the gates were open.
He decided to take a walk along the road outside the camp, and into the countryside. Standing by a fence overlooking a beautiful field, he heard the beautiful singing of a bird, a sound not experienced for six years. His thoughts turned to earlier days and he felt that a change had come about. On turning around, a jeep had stopped behind him and a voice was saying "sergeant, the war is over."
© Roy Mathieson
Source:
E-mails by Roy Mathieson, Scotland, to Moosburg Online, April, September 2003