René Marie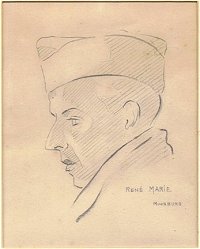 An artist's portrait from Stalag VII A
I lived in Essone 15 years ago and bought this drawing in a depot vente. I found your website so interesting and it has made this drawing come to life. Does anyone know anything about this POW of Stalag VII A? It is a portrait of the sculptor:
RENÉ MARIE
MOOSBURG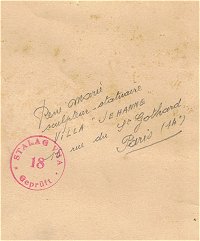 On the back it says:
René Marie
sculpteur-statuaire
VILLA "JEHANNE"
16 rue du St Gothard
Paris (14e)
The place where René Marie lived in Paris is being preserved as artist studios. In 1910 Modigliani and Diego Rivera seemed to have lived here.
Julia Manning
Source:
E-mails by Julia Manning, Somerset, UK, to Moosburg Online, April 2008