Marius Arnoux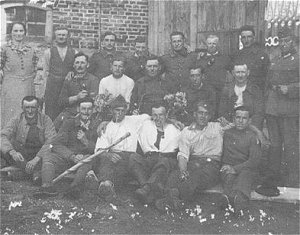 My Grandfather
My father and I recognized my grandfather Marius Arnoux, a French POW at Stalag VII A from 1940 to 1945, on this "Arbeitskommando" picture. We're pretty sure it's him: first row, third from the right. The photo is – among many others – from the book: Das Kriegsgefangenenlager STALAG VII A Moosburg in Oberbayern. Ed.: Stadt Moosburg a. d. Isar. Moosburg 1995.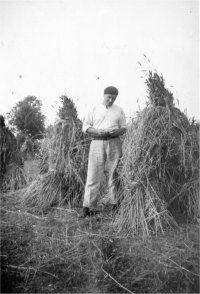 His name was Marius also known as "Arthur" Arnoux. He was born in 1908 in the small southern village of Oraison (now département of Alpes-de-Haute-Provence), on the river Durance. He was not a farmer by profession, but, as almost everyone there and then, had a rural background. He was taken prisoner on June 21 1940, at the very beginning of the war, near a town called Mirecourt (Vosges), and then sent to Moosburg. (Landshut too is a place he mentioned quite often). Apparently, for most of these years, he worked at a farm nearby. He came back home on May 17 1945. He had been away for almost 5 years; by then his boy was 13, his daughter 8.
The German family he had been working for at the farm visited him a couple of years after the war – 1957? 1958? In the late sixties, when we had these "exchange" programs with students from Germany, a young German boy from Bremen came to stay at my house. I took him to my grandfather right away – they both spent hours speaking German, which, some 25 years after, my grandfather had not forgotten.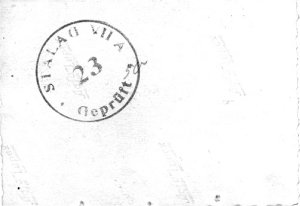 Did he have hard feelings against the German people? I don't think so. The weeks after he was taken prisoner were harsh but not his long stay at Moosburg. He probably loved working at the farm. I remember him explaining to me how to start a "Lanz" tractor, by using a blow torch to heat the sphere which contained the fuel. I listened to him a lot, but I didn't take notes – I should have.
My father, brother, sister and I are very happy that his memory can survive thanks to this website and great historical work.
Source:
E-mails by Robert Arnoux, France, to Moosburg Online, January 2008